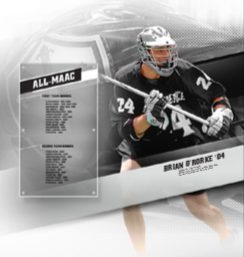 Coach Oâ??Rorke is a native of Montclair, NJ, and is currently Assistant Coach at Belmont Abbey College. The Belmont Abbey Crusaders have compiled a 21-4 record since Coach Oâ??Rorkeâ??s arrival, reached the NCAA tournament for the first time in 2019, and finished the last 2 seasons ranked as a top 5 team in the country.
As a player, Oâ??Rorke is the MAAC Conferenceâ??s most decorated lacrosse player of all time. He was named MAAC Conference Player of the Year 3 years in a row at the Division I level (2002-2004) as well as MAAC Rookie of the Year in 2001. He was also selected as an All American by Lacrosse Magazine in his junior and senior seasons. In 2004, Oâ??Rorke was honored as the recipient of the Mal Brown Award, which is awarded annually by Providence College to the athlete whose career of intercollegiate competition portrayed sportsmanship, courage, and honor. Oâ??Rorke was inducted into the Providence College Hall of Fame in 2016 and his #24 was retired by the lacrosse program. After college, Coach Oâ??Rorke continued his playing career in the MLL.
Before moving to North Carolina, he was named the New Jersey Gibbs Coach of the Year in 2015. He has more than 13 years of experience directing elite lacrosse programs in NJ & NC and 15 years of coaching experience at all levels of the game.
The SOAR Training Methods, developed by Coach O'Rorke, have produced All Americans at both the High School and College level.